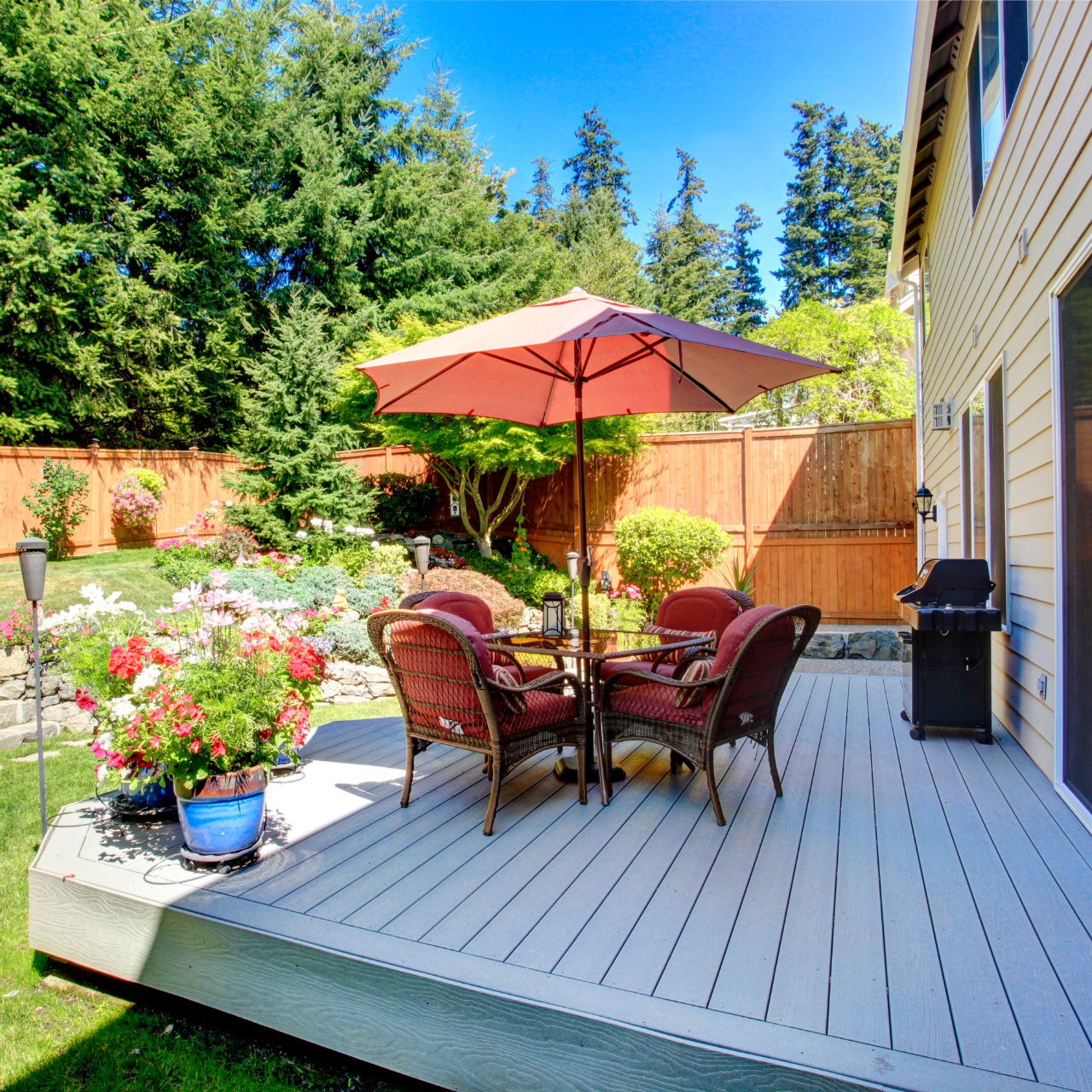 Pro Patio Installation Services – Transform Your Outdoor Space
When it comes to transforming your outdoor space and creating the backyard of your dreams, professional patio installation services are the way to go.
Are you looking to revamp your backyard and create an outdoor oasis?
With Green Dog Lawn Care's professional patio installation services, you can transform your space into a beautiful and functional area for entertaining guests, relaxing, and spending quality time with family. Whether you're looking for a new patio, walkway, or decking installation, our team of experienced professionals will provide professional design consultation and expert craftsmanship to ensure your project is completed to the highest standard.
What We Offer!
Professional Design Consultation: Our skilled team will work with you to design the perfect patio for your outdoor space. From choosing the best materials to fit within your budget and style to making sure all measurements are exact, our team will ensure that every detail is considered when designing your project.
Expert Craftsmanship: We use only the highest quality materials and techniques to ensure that your new patio is built to last. Our experienced technicians have years of experience in constructing patios, decks, walkways, and other outdoor structures, so you can rest assured that your project will be completed quickly and efficiently without sacrificing quality craftsmanship.
Affordable Services: We offer competitive prices on all of our services to ensure that you get the best value for your money. Our team will work with you to create a budget-friendly solution that meets your needs without breaking the bank.
Transform your outdoor kitchen, walkways, and hot tub with Green Dog Lawn Care's professional patio installation services and take advantage of our competitive prices, experienced professionals, and quality craftsmanship today.
Types of Patio Pavers We Use For Your Garden
The different types of pavers available for landscaping projects we use, fall into two main categories: natural and manufactured.
Natural Pavers
Natural pavers are classic and timeless. They're made from natural patio stones, brick, or concrete that can be cut and shaped to form the desired pattern.
Natural stone pavers are available in a variety of colours and textures, making them perfect for any style.
Brick pavers have been used for centuries due to their durability, and they're often used in driveways or pathways because of their slip-resistant surface.
Concrete pavers are one of the most economical options since they can be easily moulded into the desired shape and can be stained or painted for a unique look.
Manufactured Pavers
Manufactured pavers are a great option if you're looking for more uniform patterns, smoother surfaces, and more specific shapes. They're made from a combination of concrete, polymers, resins, and dyes that are moulded into the desired shape and size. They're available in a wide range of colours, textures, and sizes, so you can create the exact look you want for your garden.
Why Your Outdoor Space Needs A Revamp?
Do your outdoor space lack ambience and character? A revamp of your outdoor space can be the perfect solution! Whether you're looking to add some greenery, create an inviting seating area, or give it a fresh look, here are some ways to turn your outdoor space into a relaxing sanctuary. When you switch up the look and feel of your backyard, there are numerous benefits that come along with it.
Revamping your backyard can increase the value of your home and give it a boost in terms of its curb appeal. You don't even have to go all out – there are plenty of small changes you can make that will make a big difference.
Creating an inviting atmosphere in your backyard encourages you to spend more time outdoors, whether enjoying family time or relaxing alone. Plus, the fresh air is always an added bonus!
Boosted entertainment value
If you plan on hosting events like BBQs or parties, your revamp can help create the perfect space for entertaining guests. From comfortable seating areas to mood lighting, there are plenty of ways to set the scene.
Revamping your outdoor space is a great way to bring some natural beauty and character into your home. From potted plants to statement pieces, you can find all sorts of ways to spruce up the area.
Revamping your outdoor space doesn't have to break the bank. There are plenty of affordable options when it comes to furniture, plants, and décor, so you can makeover your backyard without breaking the bank.
Book An In-Depth Design Consultation For Your Outdoors
At Green Dog Lawn Care, we offer detailed design consultation for patio installation services. Whether you're looking for a new patio, walkway, or decking installation, our experienced team of professionals can provide design advice and help you choose the perfect materials and features to match your style and budget.
We understand that this is a big decision, so our team takes the time to discuss all options with you and answer any questions before moving forward with the project. Our goal is to ensure your outdoor living space looks exactly like you envisioned it while also being able to withstand harsh weather conditions and still look beautiful for years to come.
Our Procedure For Your Patio Project
Green Dog Patio installs custom decks, patios and other outdoor structures for homeowners. Our installation process is simple, efficient and stress-free:
Step 1: Initial Consultation – We'll work with you to discuss your project details, budget and timeline. We'll also provide a free estimate based on the information gathered from our consultation.
Step 2: Design & Approval – Once we have an understanding of what you envision for your project, our team will create a design that meets all of your needs and preferences. You'll be given the opportunity to approve or adjust the design before construction begins.
Step 3: Construction – Our experienced crew will begin constructing your patio or deck according to plan. Throughout this laying pavers process, we strive to keep the work area safe and organized and provide updates as the project progresses.
Step 4: Final Touches – Once construction is complete, our team will make sure that all final touches are taken care of, such as staining or sealing the deck.
Step 5: Maintenance & Support – We'll provide you with a maintenance schedule for your patio or deck so that you can properly care for it over time. We also offer ongoing support for any questions or concerns that arise after installation.
By following these steps in our installation process, you can rest assured knowing that your outdoor structure was built with quality and precision.
Green Dog Lawn Care – Expert Craftsmanship
When it comes to patio installation services, quality materials and expert craftsmanship are essential for ensuring a successful project. Green Dog Lawn Care, takes pride in using only top-quality materials from trusted suppliers that are designed to stand the test of time.
In addition to providing quality materials, we also employ experienced professionals who possess skillful craftsmanship techniques that ensure each project is done correctly and up to the highest standards of safety and durability.
We understand that each customer has unique needs and expectations when it comes to their outdoor living area, so our experts will take extra care in completing your project with precision and attention to detail no matter how big or small the task may be.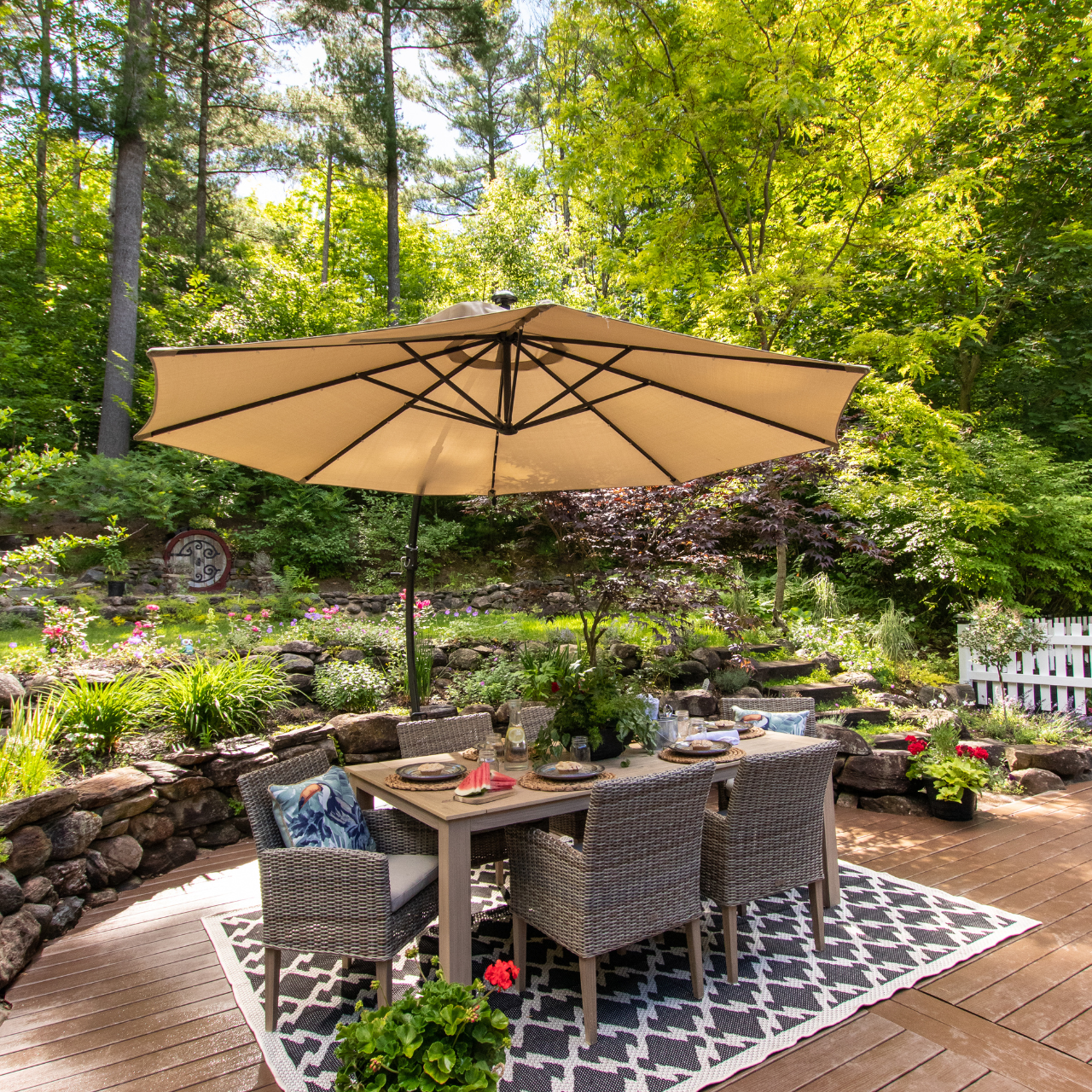 Type Of Patio Material We Use For Patio Installation
Green Dog Lawn Care typically uses brick concrete pavers, lay pavers, natural stone, or stamped concrete for patio installation. Installing a paver patio requires various patio materials, such as rented plate compactors and polymeric jointing sand.
The rented plate compactor is used to press the sand into the gaps between each paver, while the polymeric sand prevents moisture or weeds from spreading into these spaces. In addition, paver sand is necessary to fill any remaining gaps and to stabilize the pavers.
Why Professional Patio Installation Services
With professional patio installation services from Green Dog Lawn Care, homeowners can enjoy many great benefits such as increased value of their home as well as improved aesthetic appeal in their outdoor living area. A professionally installed patio can extend your living area outside while providing additional space for entertaining guests or simply enjoying some peace and quiet after a long day's work.
Not only can a professionally installed patio increase your home's value but it can also help save money on energy costs since less air conditioning is required during hot summer months due to shade provided by trees or umbrellas used in this area. Lastly, patios provide a wonderful gathering place for family members or friends which can create lasting memories throughout the years.
How much do the patio costs?
The cost of patio installation services varies depending on the size and complexity of your project. Generally, you can expect to pay between $2,000 and $10,000 for a basic patio installation. However, larger projects or those with unique features may require additional materials or labor costs that could drive the total price up significantly.
How long does it take to install pavers?
It typically takes between 2-4 days to install a basic patio, depending on the size and complexity of your project. More complex projects may require additional time for preparation work or specialized labor, which could increase the overall duration.
What type of maintenance is required for a patio?
Patios require regular maintenance to keep them in top condition. This includes sweeping away debris, cleaning the surface with a hose or pressure washer, and occasionally resealing the surface to protect it from the elements.
How can I find a patio installation service near me?
Green Dog Lawn Care offers patio installation services throughout the Greater Toronto Area. We are dedicated to helping you create a beautiful and functional outdoor space that meets your needs and exceeds your expectations. Contact us today to learn more about our patio installation services!